Zvika Serper with Video Lecture at Universität der Künste Berlin
News from Oct 02, 2018
Former IRC Fellow Zvika Serper (Universität Tel Aviv) will be guest at Universität der Künste Berlin for the following presentations:

8 Oct 2018, 7 p.m.
Lecture
THE USE OF JAPANESE TRADITIONAL THEATER AESTHETICS AND TECHNIQUES IN CONTEMPORARY ACTING AND DIRECTING 
in English with live and video demonstrations, afterwards video-presentation of the recorded staging of AGAMEMNON by Aeschylus (1 hour 20 min., in hebrew language with german subtitles), afterwards audience talk. 
10 Oct 2018, 7 p.m.
Screening
DER DIBBUK by An-Ski (2 hours, in hebrew with german subtitles), afterwards audience talk.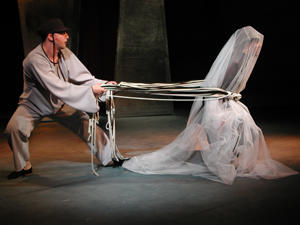 The use of body expressivity, costume and prop in 
Zvika Serper's production of "The Dybbuk"
Location
Kammersaal, Fasanenstr. 1 B, 10623 Berlin
Free Entrance.
Zvika Serper is Professor of East Asian Studies and Theatre Arts and Dean of the Yolanda and David Katz Faculty of the Arts at Tel Aviv University. He is a specialist in Japanese theatre and cinema, as well as a theatre director and actor. He studied in Japan for eight years, during which he pursued his research at the Noh Theatre Research Institute of Hōsei University, Tokyo, while also engaging in the practical study, training and performance of noh, kyōgen and kabuki with Japan's leading actors. During the past two decades, he has been exploring a new horizon that traditional Japanese theatres may open up for Western theatre by incorporating various Japanese aesthetics and techniques into acclaimed productions whose video recordings have been shown around the world. He has published widely on various aspects of Japanese theatre and cinema. He has given lectures/demonstrations and conducted master classes and workshops in acting and movement techniques at major theatres, acting schools, and universities in the US and in Europe.