SABELO NDLOVU-GATSHENI
The Politics of Knowledge in Africa and African Scholarship on Decolonization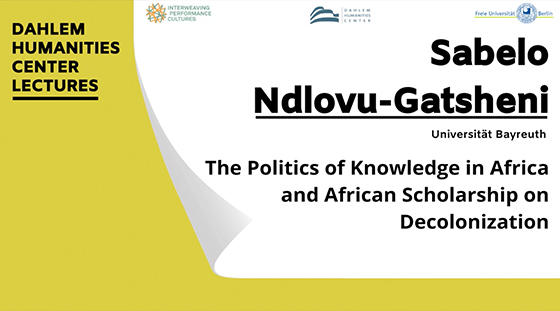 At the centre of the complex politics of knowledge is the cognitive empire. It stands as a monument of Eurocentrism. The cognitive empire operates through invasion of the mental universe of its victims. This presentation introduces the concept of the cognitive empire as an important category in gaining a deeper understanding of the politics of knowledge. It begins with a focus on the locus of enunciation as it addresses the key questions of the social, geopolitical, and epistemic locations of knowledge production. Africa is foregrounded as the epistemic base of the presenter because the cognitive empire left African intellectuals with a very problematic intellectual and academic consciousness. So the presentation also touches on the consciousness of African intellectuals and the difficult options they have as they navigate the complex domain of knowledge. At the end, the presentation provides insights into African scholarship of decolonization, a scholarship that confronts the cognitive empire.
The lecture was held in English.
You can find the video recording of this event here. 
Sabelo J. Ndlovu-Gatsheni is Professor and Chair of Epistemologies of the Global South with Emphasis on Africa at the University of Bayreuth in Germany. 
He previously worked as Research Professor and Director of Scholarship in the Department of Leadership and Transformation (DLT) in the Principal and Vice-Chancellor's Office at the University of South Africa (UNISA), South Africa. 
He was also the 2019 Visiting Professor at the Johannesburg Institute for Advanced Study (JIAS) at the University of Johannesburg (UJ). He is a leading decolonial theorist with over a hundred publications in the fields of African history, African politics, African development and decolonial theory. 
His latest major publications are Epistemic Freedom in Africa: Deprovincialization and Decolonization (Routledge, July 2018); Rethinking and Unthinking Development: Perspectives on Inequality and Poverty in South Africa and Zimbabwe (Berghahn Books, March 2019) coedited with Busani Mpofu; and Decolonization, Development and Knowledge in Africa: Turning Over A New Leaf (Routledge, May 2020).
In cooperation with the Dahlem Humanities Center